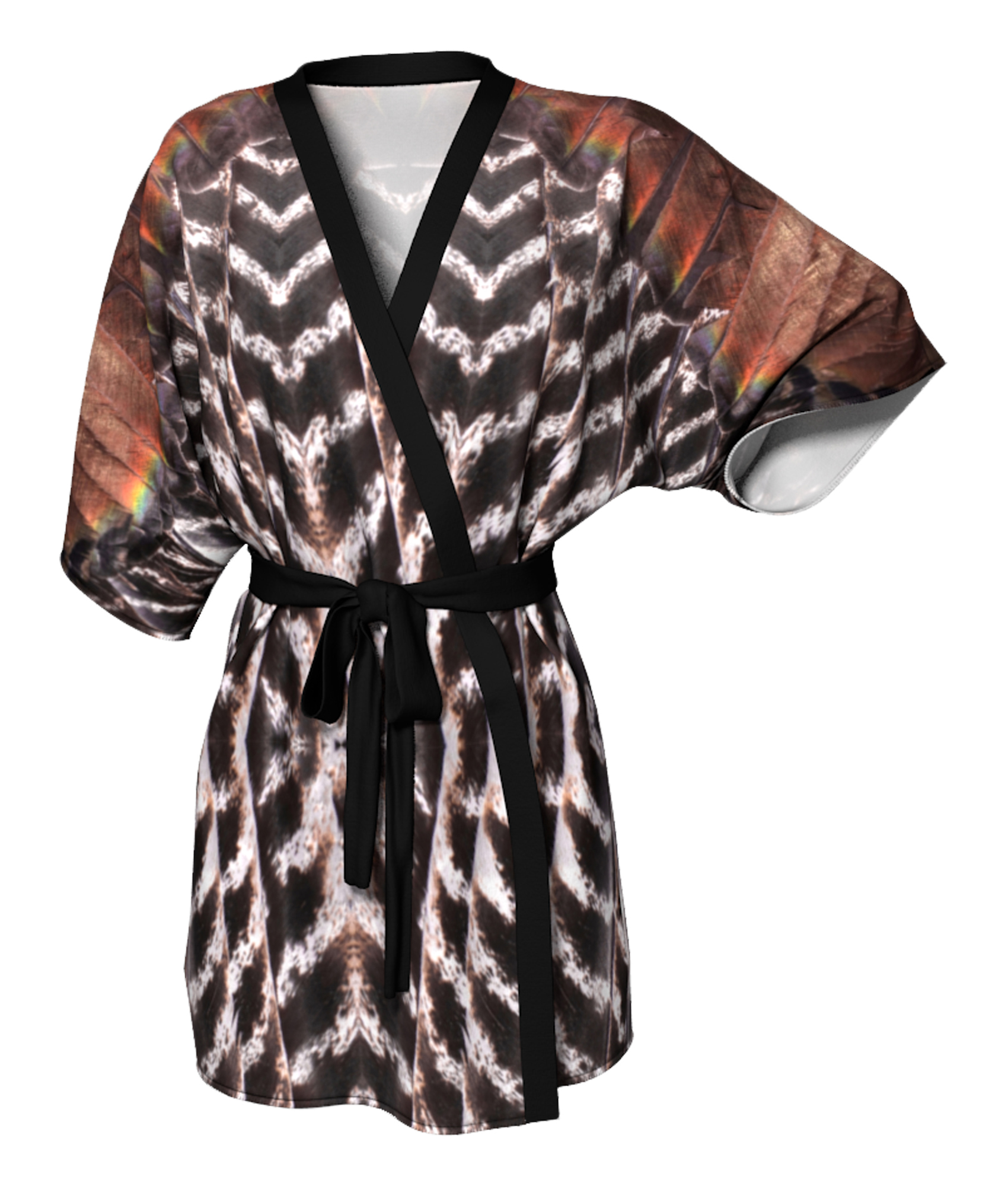 Turk 2.0 Kimono
Turkeys are intelligent and sensitive animals that are highly social. They create lasting bonds with each other and are very affectionate, quite similar to dogs. Like peacocks, male turkeys puff up their bodies and spread their elaborate feathers to attract a mate. The area of bare skin on a turkeys throat and head vary in colour depending on its level of excitement and stress. When excited, a male turkeys head turns blue, and when he's ready to fight it turns red. Their bodies are covered with over 6000 feathers of varying size, color and pattern.
This turkey in particular is a rare Ridley turkey and it is on the critically endangered list. In 2010, less than 100 breeding Ridley females were found in all of Canada.
The turkey reminds us of the importance of our relationship with the land and nature as a reciprocal source of nourishment and sustenance. In order to receive the land's blessings, we also need to honour the land. Turkeys are thought to convey the spiritual connection with the Earth and remind us of the interconnectedness of our existence and of our natural and social environment.
Go ahead girl, go on shake your tail feather!
Choose between the softness of our silky knit, or style it up with our transparent peek-a-boo chiffon fabric. Artwork like you have never worn before.
Silky Knit fabric
Lightweight silky-knit

100% ecopoly fabric made in Canada

Knit bamboo fabric trim and matching chiffon belt

Print will be seen only 10% on the inside, ideal for artwork with light colors

Micro overlock hem finishing

Printed and Sewn by hand in Canada

Quickdry fabric

Easy care

Perfect for lounging and lazy Sundays
Chiffon fabric
Lightweight woven chiffon fabric in 100% polyester

Knit bamboo fabric trim and matching chiffon belt

Vibrant print will never fade with wear or washing

Print will be seen from both sides, ideal for artwork with dark colors

Rolled edged finishing on hems

Printed and Sewn by hand in Canada

Quickdry fabric

Easy Care

Dramatic elegant look